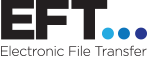 Electronic File Transfer:
Simple and secure.
Our EFT Direct Debit solution is an easy and effective way of collecting paperless Direct Debit payments either using your own Service User Number (SUN) or ours; for smooth AUDDIS and Bacs transactions.
It's refreshingly simple, providing you with bank account verification in seconds and an invaluable 24-hour online data retrieval service that keeps you fully up to date with payments.
Benefits include:
Bank account verification within seconds.
Set up customers' direct debits face-to-face or over the phone.
Reduce administration, allowing key staff to concentrate on your core business.